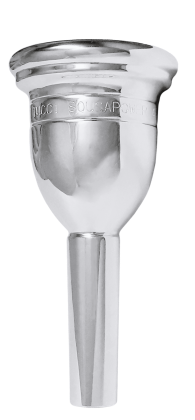 Robert Tucci Tuba Mouthpieces
Robert Tucci tuba mouthpieces are world renowned, and are widely used by students and professionals alike. These are available in Symphonic Concert Series (SC) and Heavy-Shell Series (HS). Beautifully made and great playing mouthpieces.
The Symphonic Concert mouthpieces are based on decades of experience in both performance and manufacturing.  They accommodate all types of BBb and CC-tuba, from medium-bore student instruments to those common in large symphonic bands and orchestras. All models are efficient, all offer tonal presence and strong fundamental-based sound to the listeners.  They provide the player great control over dynamics and intonation.
The Heavy-Shell mouthpieces (designated by the +) offer substantial stability in high-volume performance environments. The shell weights, throat and backbores are calibrated to assist the player in controlling tonal output. Greater strength in tone production results in more efficiency and therefore superior results with less effort.
The SOUSAPOWER (SP) mouthpieces are part of the HS series mouthpieces, and they are open blowing and deeply resonant. They build on the success of the 48+, 50+ and 88+ to provide new dimensions in sound, projection, efficiency and technique. They are ideal for medium and medium-large bore instruments.
Specs: 
| | | |
| --- | --- | --- |
| Model | Cup Diameter | Throat Bore |
| RT-24+ | 31mm | 8.5mm |
| RT-50 and 50+ | 33mm | 8.3mm |
| RT-88 and 88+ | 33.5mm | 8.1mm |
| RT-SP3 | 32mm | 8.6mm |
| RT-SP4 | 32mm | 8.4mm |
| | | |